Limestone crushing production line is designed by our company absorbing advanced technology domestic and aboard, it has the features of simple structure, high reduction rate, high output, light weight and cubic particle of crushed material, etc.
Material: It is suitable for primary, secondary and tertiary crushing of middle hard and soft rock such as limestone, dolomite, marl,sandstone and clinker, etc.
Application: It is applied for primary, secondary and tertiary crushing of various middle hard materials in the industries of chemical, cement, building and refractory.
Equipments: Jaw crusher, impact crusher, vibrating feeder, vibrating screen, belt conveyor.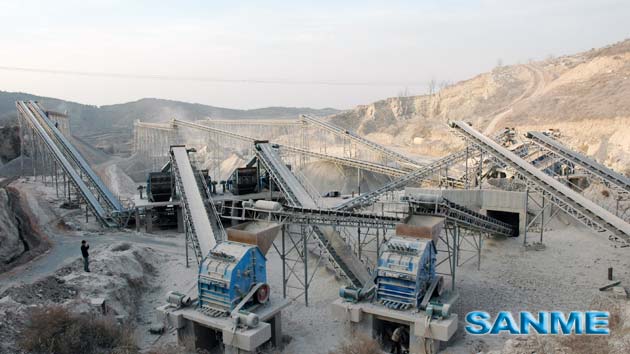 Limestone introduction
Limestone is the trade name of limestone as mining raw material, it has a very wide distribution with abundant reserves, it is an important road construction material, and also it is an important material for calcinating lime and cement, it is an indispensable high calcium lime to metallurgical industry, after ultrafine grinding, high quality limestone can be widely applied in the production of paper making, rubber, paint, coating, medical, cosmetic, feed, sealing, adhesion, polishing. The compressive strength of limestone is typically about 150 MPa, it belongs to soft rock, and therefore impact crusher is adopted for the production process of limestone production line. The proven Hazemag impact crusher is used in Sanme limestone production line, it is a new type of impact crusher with high efficiency, and is suitable for crushing limestone and sandstone, 95% of crushed material<45mm.
Basic process of limestone production line
Firstly, the stone will be evenly conveyed by feeder to jaw crusher for primary crushing, after primary crushing, the semi-product will be conveyed by belt conveyor to impact crusher for further crushing, after secondary crushing, the stone will be conveyed by belt conveyor to vibrating screen for sorting, different sizes of stone are sorted, the stone with desirable particle size will be conveyed to the final product pile, oversize will be conveyed by belt conveyor to impact crusher for crushing again, and closed circulation is formed.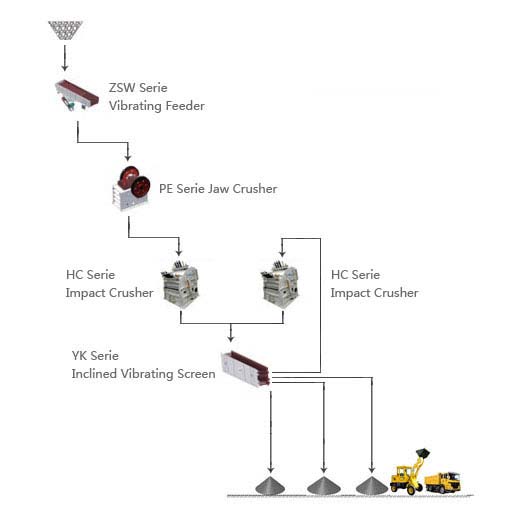 Features of limestone production line
The limestone production line has the features of high crushing efficiency, low power consumption, easy adaptation (particularly in crushing brittle material with middle hardness), and high crushing ratio, the process has been simplified to save the investment. Sanme can provide customers with comprehensive process solution and technical support, and also can design non-standard parts according to actual installation conditions of customer.