Spring cone crusher is suitable to crush various kinds of ores and rocks of medium or above medium hardness. Compare with jaw crusher, cone crusher is of stable structure, high efficiency, easy adjustment, economic operation, etc.(Sanme is a spring cone crusher supplier.)
Spring Cone Crusher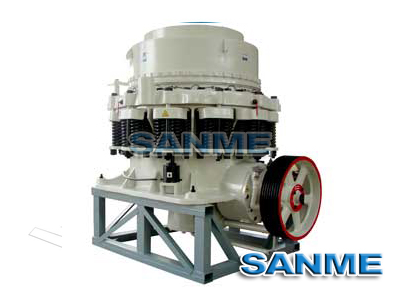 Spring Cone Crusher Working principle:
Motor drives eccentric sleeve rotation through belt work, drive shaft, bevel gear pair, moving cone to do in the role of eccentric sleeve the spin pendulum movement movable cone and fixed cone sometimes near sometimes deviate from. Materials continue to be squeezed in the crushing cavity, the impact is broken, broken material discharged from the lower. It is widely used in metallurgical industry, hydro-dam construction, transportation, chemical industry, and building materials. It is suitable for crushing all sorts of rocks which is hard and medium hard.
Features and Advantages of Spring Cone Crusher:
1. Reasonable structure advanced crushing principle and technical specification, reliable work and low cost.
2. Strong crushing ability; High efficient productivity; High capacity.
3. Reliable Hydraulic system providing safe and effective overload protection.
4. Two type of crushing chamber are for wide range of product size requirement.
5. High automation adopting hydraulic adjustment and hydraulic clean cavity setting.
The spring safety system of crusher acts as an overloading protection system that allows metal to pass through the crushing chamber so as not to damage the cone crusher. The safety system uses dry oil and water as two kinds of sealed formation to make plaster powder and engine oil separate to make sure reliable performance. The type of crushing chamber depends upon size of feeding and fineness of crushed product. The standard type (SDY) is applied to medium crushing, the medium type is applied to medium or fine crushing and the short head type is applied to fine crushing.



Spring Cone Crusher PDF Download

Technical Data of Spring Cone Crusher:
Model
Cavity
Minimum discharge mouth(mm)
Max feed size(mm)
Motor Power (KW)
Capacity (t/h) —— open circuit, closed discharge(mm)
10
13
16
19
25
31
38
52
64
76
89
102
SDY900B
Fine
9
87
75
46
59
73
82
Coarse
13
150
75
59
73
91
118
137
164
Extra Coarse
25
155
75
128
147
175
198
SDY1300B
Fine
13
120
200
109
127
146
163
181
Medium
16
180
200
132
159
200
228
253
309
Coarse
19
205
200
173
218
250
295
378
Extra Coarse
25
220
200
237
273
324
398
455
SDY1700B
Fine
16
180
250
182
205
259
296
327
Medium
22
205
250
291
337
381
438
Coarse
25
230
250
354
417
454
610
637
Extra Coarse
38
315
250
538
630
743
SDY2200B
Fine
19
235
400
381
499
617
726
852
1036
Medium
25
280
400
608
726
807
998
1128
1296
Coarse
31
310
400
789
844
1088
1257
1386
1405
Extra Coarse
38
460
400
880
1179
1361
1473
1531
1643
Model
Cavity
Minimum discharge mouth(mm)
Max feed size(mm)
Motor Power (KW)
Capacity (t/h) —— open circuit, closed discharge(mm)
3
5
6
10
13
16
19
25
31
38
52
64
SDY900D
Fine
3
35
75
27
41
55
68
91
Coarse
3
51
75
27
41
55
68
91
100
Extra Coarse
6
65
75
59
73
95
114
127
SDY1300D
Fine
3
55
200
36
59
82
105
137
164
Medium
6
76
200
82
105
137
164
Coarse
8
90
200
109
159
182
200
228
Extra Coarse
16
115
200
209
237
SDY1700D
Fine
5
60
250
91
137
164
209
Medium
6
76
250
137
164
209
255
282
Coarse
10
115
250
191
255
282
309
337
Extra Coarse
13
115
250
225
282
309
337
SDY2100D
Fine
5
90
400
190
270
345
360
408
475
512
Medium
10
110
400
354
408
454
508
560
613
Coarse
13
150
400
454
480
540
599
685
Extra Coarse
16
170
400
508
590
653
693
720
Products Knowledges
The Knowledge of Spring Cone Crusher
Spring cone crusher is widely applied for large quarry